Electra EMP110 Soldermask
PRODUCT DESCRIPTION
CarapaceEMP110 has been used in the high volume
production of PCBs since 1987. The Carapace family
has been formulated to exceed the increasing
demands of PCB processes, combined with a large
process window.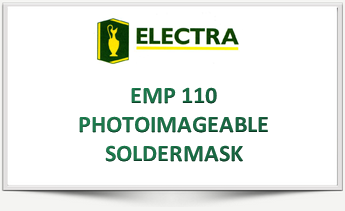 Carapace EMP110 is a contact exposure, aqueous
developing, liquid photoimageable soldermask, using
twocomponent epoxy technology to give high levels of
chemical resistance over copper, copper oxide,
tin-lead or gold plated circuits. Due to their resolution
capability, high dielectric strength and physical
resistance properties Carapace soldermasks are
used as solder resists and insulation coverings on all
types of printed circuits, particularly high-reliability,
double-sided and multilayer, fine line boards.
High resistance to low solids fluxes.

Electroless Nickel / immersion gold compatibility.

Fine solder dam resolution (50-75m, 2-3 mil).

Fast processing times allowing High throughput and productivity.

Low ionic contamination.

Solderball elimination.

Optimised rheological and coating properties for each method of application.

High moisture and insulation resistance

Excellent adhesion to flexible substrates.

No halogenated flame retardants.