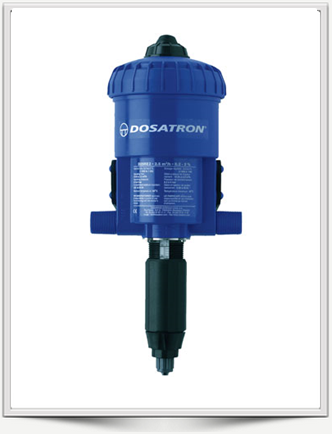 Installed directly in the water supply line, the Dosatron operates by using the flow of water
as the power source. The water activates the Dosatron, which takes up the required percentage
of concentrate directly from the container and injects it into the water. Inside the Dosatron, the
concentrate is mixed with the water, and the water pressure forces the solution downstream.
The dose of concentrate will be directly proportional to the volume of water entering the Dosatron,
regardless of variations in flow or pressure, which may occur in the main line.
Dilution Range: 1:100 to 1:20 (1% to 5%) Water Flow Range: .05 to 11 GPM
Operating Pressure Range: 4.3 to 85 PSI Available Housing Materials: Polyacetal (Standard Blue)
Includes: Side-inject Dimensions: 14" x 6 1/4"
Weight: 4 lbs Connection Size: 3/4" NPT
Maximum Temperature: 104° F Included Accessories: 6 ft clear suction tube, strainer, weight, mounting bracket and operating manual
Recommended Accessories: 200 mesh filter, check valve, pressure regulator, flow restrictor.