Chill King Vertical Water Chillers
From Dry cleaning to National Defense, CHILLKING® Chillers can provide the power and reliability to suit your type of business. Our innovative products are designed to provide reliability and efficiency, helping cut energy costs and making your business more profitable and competitive.
Replace your inefficient chiller:
– Our condensers are of the highest SEER ratings from 13 to 18 SEER. Greater efficiency equals greater savings.
– Stainless steel tank means less maintenance, more durable, longer life.
– Evaporator in tank means no freeze up compared to brazed plate and tube in tube.

CHILLKING® chillers consistently test higher than their rated BTU output, means more reserve, less cycles, and again, greater energy savings. Put existing water-cooled equipment on a CHILLKING®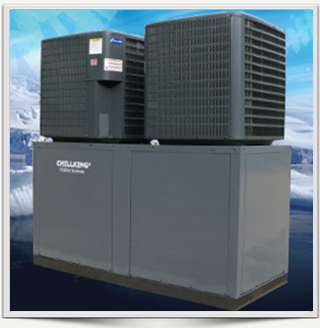 Industries Served

Industries Include

Printed Circuit Board Manufacturing

Food Service and Food Processing

Metal Plating and Metal Finishing

Water Treatment

Machine Tool/Water Jet Cutting

Welding

Brewery Equipment

Petroleum/Chemical

Solvent Recovery

Plastics/Plastic Molding Equipment

Vapor Degreasing Equipment
Horizontal Chill King Model Numbers
PDF       Model               BTU/h           Power Supply      Min. Circuit Ampacity       Ship Weight       Reservoir
PDF    GV24CK1          24,000                208/230V           1 Phase 23A (35A)            700(950)             44 gal
PDF    GV36CK1          36,000                208/230V           1 Phase 27A (43A)            700(950)             44 gal
PDF    GV36CK3          36,000                208/230V           3 Phase 19A (29A)            700(950)             44 gal
PDF    GV48CK1          48,000                208/230V           1 Phase 34A (53A)            750(1,000)          44 gal
PDF    GV48CK3          48,000                208/230V           3 Phase 26A (38A)            750(1,000)          44 gal
PDF    GV48CK4          48,000                460V                  3 Phase 11A (16A)            750(1,000)          44 gal
PDF    GV60CK1          60,000                208/230V           1 Phase 42A (68A)            800(1,050)          44 gal
PDF    GV60CK3          60,000                208/230V           3 Phase 29A (44A)            800(1,050)          44 gal
PDF    GV60CK4          60,000                460V                  3 Phase 13A (20A)            800(1,050)          77 gal
PDF    GV90CK3          90,000                208/230V           3 Phase 45A (69A)            1,000(1,475)       77 gal
PDF    GV90CK4          90,000                460V                  3 Phase 21A (32A)            1,000(1,475)       77 gal
PDF    GV120CK3       120,000               208/230V           3 Phase 51A (80A)            1,100(1,575)       77 gal
PDF    GV120CK4       120,000               460V                  3 Phase 27A (43A)            1,100(1,575)       77 gal