Chill King Horizontal Water Chillers
Our ChillKing Water Chillers are known for offering the strongest features and highest quality components on the market.  Chillers will cut your business's energy costs as well as help you deal with the continuously increasing price in water!
Custom, Horizontal, and vertical are available from 2 to 50 tons.
ChillKing is the one of the few lines of Chillers that features stainless steel reservoir tanks and ChillKing refrigeration evaporators are manufactured in house.   ChillKing's innovative distribution water manifold drastically reduces the normal manifold footprint. This innovation reduces manifold design to fit in a 30W X 19H X 12D cabinet.  In most cases up to ten pieces of equipment can be run on this manifold system.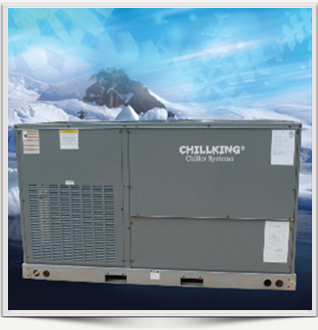 Industries Served

Industries Include

Printed Circuit Board Manufacturing

Food Service and Food Processing

Metal Plating and Metal Finishing

Water Treatment

Machine Tool/Water Jet Cutting

Welding

Brewery Equipment

Petroleum/Chemical

Solvent Recovery

Plastics/Plastic Molding Equipment

Vapor Degreasing Equipment
Horizontal Chill King Model Numbers
PDF       Model                BTU/h          Power Supply      Min. Circuit Ampacity       Ship Weight       Reservoir
PDF     GC24CK1           24,000           208/230V            1 Phase 19A (29A)            400(575)            20 gal
PDF     GC36CK1           36,000           208/230V            1 Phase 27A (43A)            700(950)            44 gal
PDF     GC36CK3           36,000           208/230V            3 Phase 20A (29A)            700(950)            44 gal
PDF     GC36CK4           36,000           460V                   3 Phase 10A (15A)            700(950)            44 gal
PDF     GC48CK1           48,000           208/230V            1 Phase 34A (53A)            800(1,050)         44 gal
PDF     GC48CK3           48,000           208/230V            3 Phase 26A (38A)            800(1,050)         44 gal
PDF     GC48CK4           48,000           460V                   3 Phase 11A (16A)            800(1,050)         44 gal
PDF     GC60CK1           60,000           208/230V            1 Phase 42A (68A)            900(1,150)         44 gal
PDF     GC60CK3           60,000           208/230V            3 Phase 29A (44A)            900(1,150)         44 gal
PDF     GC60CK4           60,000           460V                   3 Phase 13A (20A)            900(1,150)         44 gal
PDF     GC72CK3           72,000           208/230V            3 Phase 33A (52A)            950(1,425)         77 gal
PDF     GC72CK4           72,000           460V                   3 Phase 16A (24A)            950(1,425)         77 gal